Final Fantasy 14 Adds Rathalos in Monster Hunter Mashup
By Kyle Sledge 09 August 2018
Several days ago, Monster Hunter World's crossover event featuring Final Fantasy 14's Behemoth officially started, and now it looks as if the Capcom property is set to return the favor for Square Enix's MMORPG. Today, FF14 has added Monster Hunter's Rathalos alongside an assortment of Monster Hunter-inspired assets.
As indicated in Final Fantasy 14's big 4.36 patch, Rathalos is going to be the target of "The New King on the Block" – that is, a quest available to those who have hit level 70 and  finished Stormblood's main campaign. Anyone who meets those requirements can accept the mission by talking to the hearty hunter found in Kugane. The quest involves an eight-player battle against the Monster Hunter dragon, and once it's been defeated, players can face it again in even more arduous version of the fight that lowers the player count to four and introduces "additional hurdles to overcome."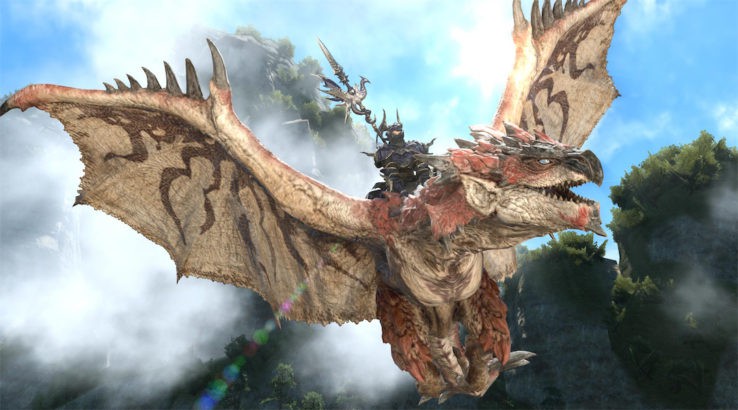 Those who manage to defeat Rathalos will be rewarded with a handful of items inspired by Monster Hunter, including a set of Rathalos armor, as well as a Rathalos mount. What's more is that Final Fantasy 14 players will also be able to get Poogie and Palico minions, Monster Hunter Orchestrion rolls, as well as BBQ Spit outdoor and indoor furnishings. No doubt, most FF14 fans will see these additions as a sumptuous amount of in-game swag on behalf of Square Enix and Capcom.
Beyond Final Fantasy 14's aforementioned Monster Hunter-inspired items in patch 4.36, it's also worth noting that the update also adds a new area to the Forbidden Land of Eureka called Pagos, but in order for one to get to the location, they will need to have completed the Anemos story. Once that has been done, they can head to Pagos by speaking to Rodney near Pier #1 in Kugane.
All things considered, it's safe to presume that most, if not all Final Fantasy 14 fans will adore the materials being brought into the MMORPG thanks to the Monster Hunter crossover. With this being the case, it will be interesting to see if FF14 goes on to host another franchise for additional content in the future.
Final Fantasy 14 is available now for PC, PlayStation 4, and Xbox One.
Source: Final Fantasy 14 (1), (2)